Holiday
Bouncing Ball Sing-A-Long!
Secret Speakeasy

Sunday Dec 27th 2020
7pm - 9pm all ages NYC time
In Soho & virtually whatever suits you!

The Museum of Interesting Things
takes over your eyes & ears
for a special 16mm film
Cartoon/ Animation sing a long Speakeasy!
See 16mm vintage short films
Hear original vinyl records
Enjoy actual antiques you can handle and get demonstrated!
SPECIAL TREAT:
The Head Peddlers will do a live SingAlong! &
We will play a Sing-A-Long made by
Doc Hammer of Venture Brothers
from his old band.
My band opened for them. Miss em!

Masks and social distance,
pls bring your own sanitizer. sharing seems less safe.
In the spirit of a true Speakeasy
Anything can change so...
Please check this website before leaving.

The Museum has a show featuring
Original Rare 16mm short films from the
1930's, 1940's, 1950's and 1960's

Early 1900's and some 1800's antiques demos too!
Stereoviews and Mutoscope cards!

To join the email list for Events/Monthly Speakeasy and
New Items click here and let us know

The Loft at Prince Street 177 Prince Str 3rd Flr
or virtually, zoom sent with tickets
$10 to help the Museum :)
Between Thompson & Sullivan street
in Soho NYC 212 274 8757
Advance Tickets:
https://www.eventbrite.com/e/holiday-sing-a-long-party-sunday-dec-27th-2020-tickets-130937079329

Please spread to people you know and love!
Yes, the rumors are true, we are shooting part of
a pilot for a possible show at the gig. smile ;)
This is a loungie place....so please let us know
If you have special needs and require seating.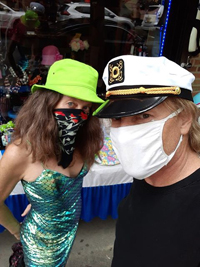 The Head Peddlers live singAlong!