Rockin'
Secret Speakeasy
All eras! 1950's & 1960's to 80's
Sun Apr 18 2021
7pm - 9pm all ages NYC time
Virtually And LIVE whatever suits you!
with original Rock & Roll 16mm films Soundies, Jazz
dance party,
well dance on your sofa

See 16mm vintage short films
Enjoy actual antiques you can virtually handle
and get demonstrated!
A Story Telling Event

SPECIAL TREAT:
The Ramones Tour Manager
Monte A. Melnick
will be there and tell us some R & R stories!
from his book "On the Road with the Ramones"

We will have nearly all our cool music players
the famous Mighty Tiny! 8 Track karaoke players
I will demo and dj them all and ... so will YOU!
And of course an amazing collection of
Vinyl LP's

To join the email list for Events/Monthly Speakeasy and
New Items click here and let us know

If we do a live it will be at
177 Prince str 3rd Flr or Virtually
between Thompson & Sullivan str NYC
$10 to help the museum :)
212 274 8757
Advance Tickets
https://rockin_sse_0421.eventbrite.com
A perfect date night

Please spread to people you know and love!
Yes, the rumors are true, we are shooting part of
a pilot for a possible show at the gig. smile ;)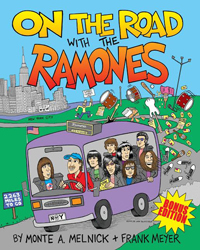 Monte A. Melnick Ramones tour manager
over 2200 shows!