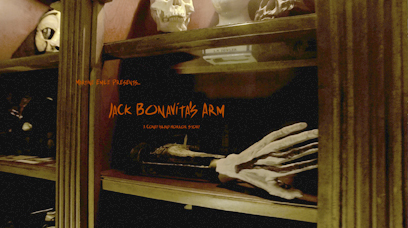 Secret Speakeasy
Special 1st Public Screening!
Jack Bonavita's Arm
The famous Coney Island Lion tamer!
Sunday Nov 26th
5pm

The Museum of Interesting Things
brings the horrors of Coney Island to Soho!
Come see the short Film Jack Bonavita's Arm
at a special screening - The 1st public screening!
Shot in Coney Island with
many sideshow performers!

Somewhere in the Midwest a happy couple Brad and Lissa are traveling by car and finds a museum of curiosities and decide to go check it out, that decision will change their lives forever
Filmed In Coney Island
Starring Amanda Jencsik, Jermaine Penn, Paul Melville and Nikos Brisco

Some Props by: The Museum of Interesting Things
Including the Arm!

A film by: Martine Emile
In the spirit of a true Speakeasy
Anything can change so...
Please check this website before leaving.
Everyone after the film gets
FREE Admission to the Secret Speakeasy 6-10pm
i also helped with this film :)
The Museum of Interesting Things
All eras of history some over 100 years old!
See Old 16mm short films Jazz, circus, animations, vaudeville and more

The Museum has a show featuring
Original Rare short 16mm films from the
1940's, 1950's and 1960's

Early 1900's and some 1800's
Stereoviews and Mutoscope cards!

To join the email list for Events/Monthly Speakeasy and
New Items click here and let us know
177 Prince Street
Between Thompson & Sullivan street
$15 to help the museum and director:)
in Soho NYC 212 274 8757
This is a loungie place....so please let us know
If you have special needs and require seating.
Advance Tickets
https://www.eventbrite.com/e/jack-bonavitas-arms-film-showing-at-the-museum-secret-speakeasy-tickets-39383047756